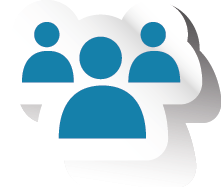 The Lerepco IT Group of Mount Laurel, NJ, provides IT strategic consulting and managed services, with a focus on end-user productivity and cybersecurity.
Our client base includes law firms, healthcare-related practices and organizations, engineering firms, HVAC businesses, and companies with multiple worksites. We SPECIALIZE in improving IT workflow processes across single and multiple end-user locations.
Our company's co-founders and principals, Art Leiby and Bob Puphal, have an obsession to eliminate unproductive downtime related to computer-system mishaps. They consider it Lerepco's mission to maintain the IT side of their clients' workdays with seamless, uninterrupted availability.
Art and Bob have spent their entire careers in the IT world—both have computer-science educational backgrounds. They started Lerepco in 2014 because they saw an unmet opportunity to provide outstanding service to both new and loyal clients who followed them over from their previous employer.
The Lerepco IT Group views clients' technology needs a bit differently from most other managed-services providers. We strategize with an eye on implementation and holistic management of an IT infrastructure that increases your productivity while keeping your confidential data and email files safe.
Ensuring IT security from the inside out is why we cater to our clients with constant attention. We get caught up in the details. It's the only way to understand complex IT systems and identify root causes when problems compromise your company's productivity, IT security, or both simultaneously. If you've had enough of working with an IT vendor focused on temporary "break-fix" patches and piecemeal solutions, The Lerepco IT Group offers a better, more secure, and more long-term way.
Technology integration is only as good as the people who implement it. We are driven by our Core Values:
Experts– Experts with a continuous drive to learn new skills, technologies and to provide the most effective solutions to our clients.
Full Attention- We cater to our clients by being present. Listening and responsive.
Proactive– We have an obsession to eliminate unproductive downtime related to computer-system mishaps. (tagline!)
Integrity– Make all decisions with honest intentions.
Client Centric– You'll appreciate having the Lerepco IT Group as your company's "human firewall" .
Our Mission
To provide technology expertise and guidance to the cybersecurity needs of Small/Medium businesses. It's our way of helping people relying on you to protect their digital history: your clients, patients, and staff.
Please join us as we embark on the next 30 years promoting and implementing technology solutions that foster corporate growth to the small and medium size business community.